September 17, 2021
Books We Can't Wait to Read This Fall 2021
It's officially fall! Time to transition from hot weather and long days to lighter jackets, cool breezes, and of course…new reads! As we spend more time indoors, now would be the perfect time to find the comfiest spot at home and kick back with a good book. Lucky for you, we have tons to cozy up with. From spooky Halloween recipes to trivia about the British royal family to a magical guide to help you along your self-care journey, there's something for everyone this season.
So, if your goal was to read more this year, here are several recommendations to add to your to-be-read list.
The Unofficial Hocus Pocus Cookbook
Ready to be enchanted? We've got just the perfect recipes to put you under a spell. Join the Sanderson sisters once again as you conjure up your own spellbinding treats and brews inspired by Hocus Pocus. This cookbook is filled with spellbinding treats and bewitching drinks that'll make you remember why you loved the cult-classic films and Halloween. So grab a copy of the book and prepare to go on a spooky and fun journey.
K-12 Coloring Book
Are you a Melanie Martinez fan? She's back with a brand-new coloring book based on her second studio album, K-12! Color in each page as her fictional character Cry Baby and a few magical friends plan their escape from the K-12 Sleepaway School.
The I Love Trader Joe's College Cookbook: 10th Anniversary Edition
By Andrea Lynn
This year we're celebrating the 10th anniversary of a campus classic, The I Love Trader Joe's College Cookbook. With brand new recipes to incorporate your favorite TJ's products like cookie butter and elote seasoning, you can create delicious meals from the comfort of your dorm room. With smart tricks and tips for using fast-cooking appliances like pressure cookers and air fryers, this cookbook is the perfect one-stop shopping guide to your favorite local grocery store.
Schitt Happens
A very schitty experience awaits you with the turn of a page. Grab your art supplies and prepare to relive all of your favorite settings of the Rose family's adventures by coloring your way through 20 original, hand-drawn illustrations inspired by the hit comedy TV show, Schitt's Creek. From Moira Rose's wall of wigs, to Rose Apothecary and Café Tropical, Schitt Happens is the perfect way to relax and remember all the smiles, laughs, and tears of six incredible seasons.
The Intuitive Night Goddess Tarot
This artistic and creative deck of tarot cards allows users to discover their own power and magic as well as learn to trust their intuition. A lovely mix of beautiful art with divine magic, The Intuitive Night Goddess Tarot offers increasing wisdom with every reading. Perfect for both beginners and the most advanced of tarot lovers.
Hand Lettering for Self-Care
Letter from the heart with this first-ever calligraphy meets-self care guide packed with fun and simple art projects designed to help you cut down on stress, make time for yourself, and learn a new skill. Inside this workbook, you'll find an easy-to-follow guide on lettering, explanations of the common tools, and tips on how to establish a routine for regular practice and creative time. From brush pen lettering to calligraphy, you'll learn how to create your own unique style—even if you're a beginner. Now, learning calligraphy and hand lettering can be more than an enjoyable hobby but also a calming self-care practice!
Behindfulness for Beginners
Let's face it, with all the pressures of modern life, finding a moment to be mindful, calm, and present can feel nearly impossible. Dr. Harry B. Hind is here to help. Each page of Behindfulness for Beginners introduces life-changing gratitude exercises, affirmations, mindful-ness prompts, and meditation practices along with the mind- and toilet bowl–blowing stories and facts that inspired them. So get ready to wipe away all your anxieties, hang-ups, and mental dingleberries.
Cross-Stitch Like a Queen
Celebrate drag and queer culture through crafting with this first-of-its-kind collection of creative and colorful patterns inspired by drag queens, pride, and the LGBTQIA+ community! Filled with 25 designs ranging from sexy pumps to iconic quotes, and extra design material to create your own custom patterns, crafty queens and drag enthusiasts alike will love this book. So grab your needles and fabrics along with a copy of this book, and get ready to stitch fabulous patterns.
Mixology and Murder
Want to know what will make your average cocktail taste even better? Adding a splash of true crime to the mix. Now, you can dive into stories about terrifying serial killers, baffling cold cases, and secretive cults in a whole new way. With easy-to-follow drink recipes alongside horrifying stories like the Jonestown cult massacre and the unsolved mystery of the Black Dahlia, Mixology and Murder has a chilling cocktail for every true crime fan. So pour yourself a drink and discover your latest true crime obsession with this first-of-its-kind cocktail book that gives a new meaning to the phrase "bad and boozy".
Drawing Dragons Sketchbook
From the bestselling author of Drawing Dragons comes a new tool to help you become a drawing dragon expert. With more space to sketch, step-by-step tips, tear-out pages, and beautiful illustrations, you can take all your fantastic beasts and creative ideas with you on the go. The perfect gift for dragon fans and beginner artists everywhere, take your drawing to new heights with Drawing Dragons Sketchbook.
Overcoming Insecure Attachment
Dealing with crippling fear and anxiety in your relationships? With this guide, you'll be able to defeat anxious, anxious-avoidant, and avoidant attachment issues; deal with the drama triangle; and build stronger, more successful relationships. Written by a behavioral relationship expert, Overcoming Insecure Attachment provides actionable steps on how to overcome insecure attachment styles and the problems they spawn with self-value, self-awareness and self-responsibility. Going beyond what traditional attachment theory books focus on, readers will follow eight proven steps that they can customize and organize in the way that best suits their unique needs, all the while being bolstered and championed by Tracy Crossley's friendly, bold tone.
Dirty Language Books
Our dirty language books got a whole lot dirtier! With new words and phrases added to the collection, you'll learn all the things they didn't teach you in your language classes—from slang words, modern phrases, and curses in Spanish, French, Russian, German, Italian, Chinese, and Sign Language. Now, when you're traveling to other countries, you can drop the textbook formality, and get dirty!
Drawing People
By Lise Herzog
Grab your pens and pencils and put your drawing skills to the test. Learn how to draw true-to-life human figures and poses with this step-by-step instruction book. And don't worry about not being a professional. We have plenty of blank pages so that you can sketch to your heart's content. So, pick your favorite figure and learn how to bring it to life.
Teach Your Dog to Talk
Ever wished your furry friends could respond when you talked to them? Well, now they can. As the first resource to encourage more pet owners to explore this fun (and funny!) endeavor with their animals, Teach Your Dog to Talk will explore the basic setup of currently available AAC devices and best practices for getting started, and highlight notable achievements by some of the internet's favorite "talking" dogs. Also, the book will answer frequently asked questions, discuss common mistakes, and offer do's and don'ts. Discover a whole new way to communicate with your pets.
The Home Flipper's Journal
By Nancy Dunham
Whether you're a first-time house flipper or experienced flipping pro, this book may be calling your name. This handy organizational tool makes buying, renovating, and selling a home easier than ever. You'll be able to keep track of all major improvements and little details in one place. This journal is the perfect guide to a profitable home-flipping experience.
Herbal Tea Magic for the Modern Witch
By Elsie Wild
Dive into the world of green witchery and uncover the destiny at the bottom of your tea cup with spells, rituals, and divination. Learn about the world of herbal magic and discover how you can incorporate it into your daily life.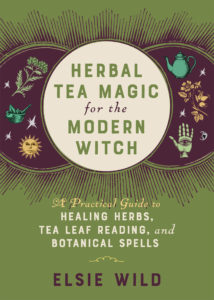 Reading with Animal Mini-Books
Make reading fun for preschoolers, kindergarteners, and first graders with these write-it-yourself stories. Designed to be torn-out, folded, and stapled together, these projects let kids create their own customizable mini-books that build all the skills they need.
The Magical Girl's Guide to Life
By Jacque Aye
What happens when you mix manga into your self-care journey? You get this charming book. Transform into your most magical self and harness your inner power- anime style to help you along your magical journey. In this creative, self-care guide, you'll learn how to don the powers of some of your favorite characters from manga and anime to help battle your real-world issues, like overcoming anxiety, making new friends, building stronger relationships, and practicing self-care techniques. You'll discover how self-love, sisterhood, and magic go hand-in-hand.
Royal Trivia
By Rachel Bowie & Roberta Fiorito
How much do you love the British royal family? With Royal Trivia, you'll be able to keep up with the royal family and test your knowledge on everything regarding this family. Get the inside scoop on iconic weddings, fashion moments, philanthropic events, and the birth of new royals. This is the perfect book for fans of The Crown or anyone royally obsessed.

I Own My Magic
On top of all the roles and responsibilities that come with being a Black woman, it can be difficult to express yourself or feel encouraged. Written by licensed clinical social worker, Michelle Goodloe, this book will give you a huge boost of confidence and improve your self-esteem with inspiring journal prompts, reflections, and affirmations.
As you read I Own My Magic: Self-Talk for Black Women, you'll learn how to care for your health, free your Black Superwoman cape, celebrate your Black Womanhood, reclaim your culture, and ultimately, recognize how incredible you are. This is the perfect motivator for overcoming your own adversities and uplifting yourself so you can proudly announce, "Yes, I deserve to own my magic!"
– Tyanni Niles
---
Related Posts