October 10, 2023
Books to Read in Honor of World Mental Health Day 2023
Today, October 10, is World Mental Health Day 2023. The World Health Organization hopes that people and communities worldwide unite today—and really, every day—to raise awareness of mental health issues and encourage efforts to support mental health. According to WHO, one in eight people globally live with mental health issues. And in increasing numbers, it's affecting young people. Working on yourself to have good mental health is important because it affects how you think, feel, and act. It even affects how you handle stress and how you interact with others.
So, in honor of World Mental Health Day 2023, here are a few book recommendations that will help you on your mental health journey. Because taking care of your mental health also means protecting your overall health and well-being.
***
1. The Happy Empath's Little Book of Affirmations
With everything going on at all times, it can be hard to add something else to your to-do list. But, like with anything else, it's about repetition and building up a routine. Practicing self-care can be as quick as engaging with affirmations found in The Happy Empath's Little Book of Affirmations by Stephanie Jameson. Reflect, soothe, and meditate while you read these short and simple mantras that you can use in any situation to reset and refocus your mindset.
2. The Somatic Therapy Workbook
Sometimes, you have to put in the work. It can take a while and be difficult, but it's worth it. The Somatic Therapy Workbook by Livia Shapiro offers a way to release tension, boost your mood, and heal from traumatic experiences. This workbook has therapist-approved activities to approach emotional and physical healing. You will learn healthy habits to process and accept emotions through journal exercises, prompts, movement exercises, and experiments.
3. Overwhelmed Brain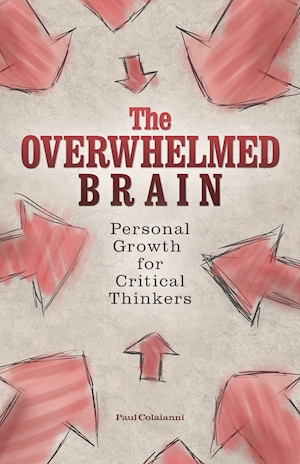 Sometimes, our brains can be so cluttered. It can be hard to wade through and figure out which thoughts are helpful and which thoughts are bordering on self-sabotage. Stress, anxiety, and negative self-talk can be huge obstacles to finding peace and happiness. The Overwhelmed Brain by Paul Colaianni will give you tips, anecdotes, exercises, and advice on how to take back control over your emotional well-being. With an easy step-by-step how-to guide, you will stop self-sabotage, overcome stress and anxiety, and learn to be true to yourself.
4. The Vulnerability Workbook
Even though the world is more open than ever about discussing mental health issues, it can still be extremely nerve-wracking to open up about your struggles. And it can be lonely when you feel like you can't show people your true self. The Vulnerability Workbook by Anouare Abdou will become your go-to resource for embracing vulnerability and encouraging others to do the same. Through self-reflection exercises, prompts, and interactive activities, you will learn to turn vulnerability into a strength that will enrich your life and your relationships.
5. Coloring Dream Mandalas
Coloring isn't just for kids. It can be a creatively fulfilling activity for adults! It's also a fantastic way to relax while you color in these beautiful and mystical shapes in Coloring Dream Mandalas by Wendy Piersall. With 30 hand-drawn designs, this book fosters creativity, reduces stress, and allows you to embrace your inner child. So, put on a Spotify playlist or press play on your favorite comfort show while you focus on making art.
More Self Help and Self Care Books