October 4, 2023
Must-Read Books After Binging Only Murders in the Building
Sigh. Yes, that's right. After ten episodes of cliffhanger after cliffhanger, Only Murders in the Building season 3 is over. Who else already misses the iconic trio of Charles, Oliver, and Mabel? It'll be a while before we see these three in action again. You can always rewatch all three seasons in the meantime, but you could also brush up on how to become a super sleuth by checking out these true crime books!

True crime isn't just reserved for our favorite residents of the Arconia. We put together a list of Ulysses Press titles that you and the characters from Only Murders in the Building won't be able to put down.
---
1. Mixology and Murder
Your true crime obsession will pair nicely with a cocktail. Served chilled, of course. Murder and Mixology will teach you how to make delicious cocktails inspired by some of the most infamous true crime stories. You can't go wrong with drinks like Fugitive Fizz, In Cold Blood Orange, and Colada Confessions. Come on! Aren't you dying to learn to make these?
2. The True Crime Dictionary
While you're sipping on that cocktail (Amityville Amaretto, maybe?), become the ultimate detective right from the comfort of your home. You'll learn everything from police jargon to forensic terms in The True Crime Dictionary. After all, you'll want to make sure you are up to speed on all the terminology to keep up with the Arconia Trio. Plus, knowing some fascinating information to dazzle your friends at your next hangout never hurts. Or better yet, you'll know more than enough to start your own true crime podcast.
3. Serial Killer Trivia
Anybody can listen to Serial or watch every single true crime documentary that comes out on Netflix. But how much do you really know about well-known murderers? You might think you're a true crime junkie or a connoisseur of macabre tales, but put that knowledge to the test by reading Serial Killer Trivia! Quiz yourself and other murderinos to see who comes out on top with filling their brain with true crime factoids and stories.
4. Hunt a Killer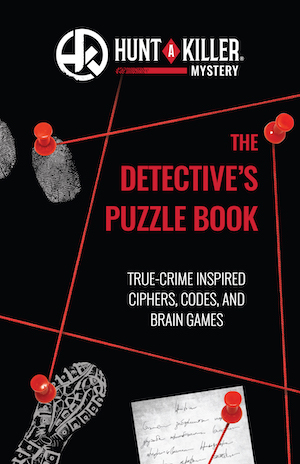 You might think you're ready to jump in and become a famous detective, but you probably need some practice first. Put your crime-solving skills to the test with Hunt a Killer: The Detective's Puzzle Book. This book comes with codes, ciphers, and mind-bending puzzles that will fine-tune your investigative skills before you solve the next big case.
5. Female Serial Killers
Everybody's heard of Manson, Jack the Ripper, Ted Bundy, and John Wayne Gacy. But some of the most gruesome murders were committed by female serial killers. Get up close and personal with these shocking tales of murderous nurses, black widows, and angels of death featured in Female Serial Killers. Once you've finished reading this book, you won't ever forget the names Cathy May Wood, Aileen Wuornos, and Eva Dugan.
6. Scams & Cons
Inventing Anna and Tindler Swindler were some of Netflix's biggest hits. And it's easy to see why. There's something so utterly fascinating about the psychology behind the people who manipulate to get what they want. Dive deep into the world of famous scammers and con artists and find out how they manage to be loved by those they lie, steal, and cheat from while escaping the police. Well, until they slip up and eventually do get caught. But how do they finally get caught? Find out in Scams & Cons!
---
Only Murders in the Building fans, you've got plenty to keep you occupied until season 4 rolls around. Happy reading and happy sleuthing!